Hollis NeoTek for cold water
Impressive semi is an alternative to diving dry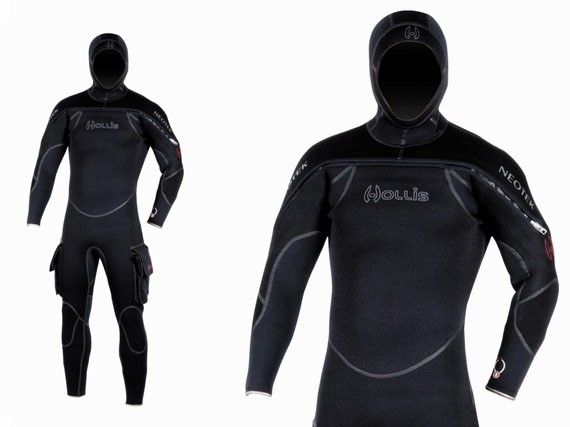 Hollis is introducing the NeoTek, a brand new semidry suit designed for use in cold water.
In places, the wearer can count on 8mm of thermal protection, although it's made up of 7mm and 6mm areas.
The neoprene material used in construction is compression resistant, so the NeoTek should stay warmer at depth. It will also make your buoyancy more consistent.
a sturdy performer
This suit is lined using Hollis's own LavaSkin material.
Interestingly, entry is through a front horizontal zipper, and there's an internal dam to prevent flushing around the cuffs and ankles.
No need for a separate hood with this one either – it's built in.
Let's face it, a wet (or semidry) suit doesn't always get treated with the same respect as a drysuit, tending to be thrown around, left moulding in a bag, etc.
Luckily then the NeoTek is a sturdy number. Joins are glued twice over, then blind stitched over the top to create both a watertight and wear-resistant seam.
The suit also comes with pockets on both thighs for the reel, torch and what have you.
If you're going to dive with a semi on, the Hollis NeoTek looks like one to consider. It goes on sale in the US next week.
MORE News