Name the manta, win a BCD
AP Diving wing up for grabs at DIVE 2013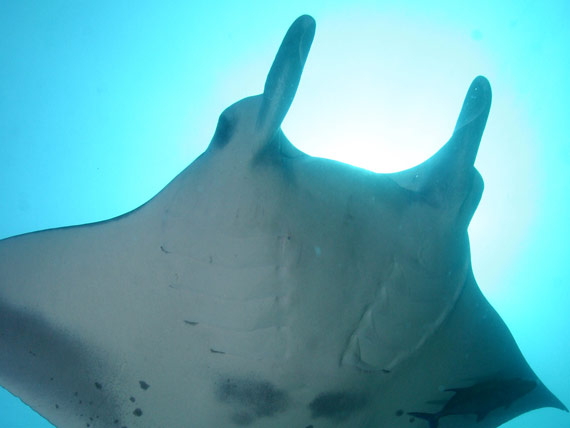 Scuba Tours Worldwide is offering one lucky visitor to next month's dive show the chance to win a brand new BCD.
The AP Diving 'Commando Escape Sub Three Zero' BCD is worth more than £300, and will be gifted to the winner of the 'Name the manta' Competition. 
She is currently known as 1850 D587
This beautiful female manta ray was first seen in the Maldives in 2007, when she was pregnant, and she has been spotted a few times since – usually in Ari Atoll.  She is currently known as 1850 D587, but Scuba Tours Worldwide rightly think she deserves a proper name.
DIVE 2013 takes place at the Birmingham NEC over the weekend of 26th and 27th October 2013. To enter the manta ray competition, you need to visit the Scuba Tours Worldwide stand (no.530) – and suggest a name by signing up for their newsletter. Simples.
The lucky winner will be announced at the show before it closes on Sunday. 
A rapidly executed poll in the office put forward 'Marina' for the manta. 'Ray' was also suggested. Clearly, a dearth of imagination here then.
Scuba Tours Worldwide have been running dive trips in the Maldives for 24 years and have built up extensive knowledge about the behaviour and migration patterns of manta rays.
Rob Bryning, owner of Scuba Tours Worldwide says: "The manta population in the Maldives migrates from one side of the atolls to the other, according to the season, so that they can feed in plankton rich water. We normally see manta on 'cleaning stations' and we know many dive sites where this cleaning behaviour takes place.
"Anne-Marie, Cruise Director on our own liveaboard, MV Sea Spirit, has a PhD in Manta Behaviour and Ecology in the Maldives and the manta to be named is one of hundreds that she has logged in her extensive database." 
To look into diving with Scuba Tours Worldwide, visit www.scubascuba.com/news or call 01284 748010.
MORE News