Home-made submarines dive, dive, dive
Submarine Race 2014 under way in huge QinetiQ tank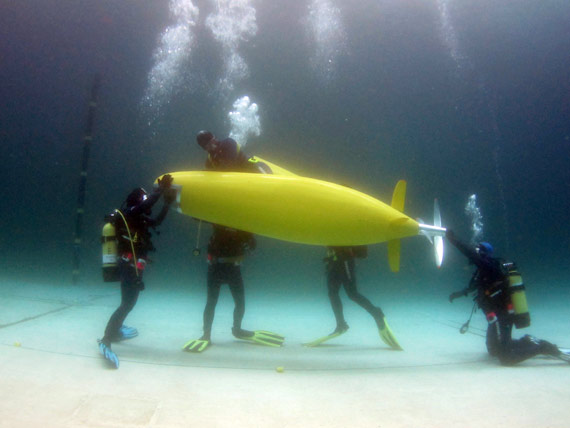 The bi-annual Submarine Races have returned and are under way this week at QinetiQ's Ocean Basin in Haslar, Gosport in Hampshire.
Imagine your local swimming pool, and then put it out of your mind: this tank is Europe's biggest covered water freshwater space. It's a monster.
No periscopes or torpedoes were allowed
Nearly 100 students from ten universities around the world are jockeying for position in the unique engineering and sporting event, which sees pilots in scuba gear pedalling furiously in their totally submerged submarines around the huge tank, which is the size of an international football pitch.
Teams have brought themselves and their subs to take part in the competition, which tests design prowess as well as engineering management, skill and sporting ambition.
Some have built two-man subs, while others opted for the more traditional one-man layout. No periscopes or torpedoes were allowed.
Over the course of the next five days, a panel of judges, headed by Vice Admiral Sir Robert Hill will be assessing the students, based on overall speed, the week's top speed, and on agility, innovation and on the best presentation.
Good luck to all the student submariners. You can read more about the Submarine Race 2014 on the official website.
MORE News