Atomic Aquatics BC2 features and spec
Forthcoming back-inflate buoyancy compensator builds on success of BC1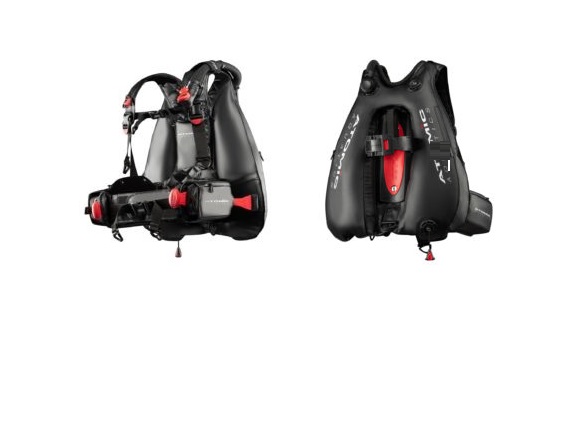 US manufacturer Atomic Aquatics has announced details of the BC2, its second buoyancy control device (BCD) with premium features and materials.
Unlike the jacket-style BC1 introduced in 2017, the new BC2 has a back-inflated wing design. It is engineered using the same unique materials and patented Atomic Aquatics features as the BC1, including the EZ-LOK integrated weight system and CAM-LOK ratcheting tank band.
BC2 has a back-inflated wing design
The BC2 is constructed from an exclusive, attractive and incredibly tough double-laminated polyurethane coated waterproof fabric. The custom matte-finish fabric is coated on both sides and is completely waterproof. It is virtually dry straight after a dive and will deliver years of durability.
This wing delivers a superior level of flotation, balance and comfort. Unlike most other back inflation BCs, the BC2 is neutrally-buoyant. Additional weight is not required to offset positively buoyant materials as with other back flotation BC models.
At the sides, a special silicone retraction band connected to the outer flotation cell expands then cleanly retracts into a protective sleeve under the weight pocket. The silicone band material dries quickly and will not deteriorate like elastic style webbing.
The Atomic Aquatics BC2 is the result of the company's 'design studio' approach in which experienced dive equipment engineers re-examine every detail and reimagine every purpose of a product's existence.
The new Atomic Aquatics BC2 includes other exclusive features:
Diamond Pattern Quilted Backpad and Adjustable Lumbar Pad
Custom 316 Stainless Steel D-Rings with Titanium PVD Coating
Replaceable Inner Bladder
Sand-Resistant Pocket Zippers
Divers can choose to equip the BC2 with the pairing of an Atomic Aquatics Octo and Ai Power Inflator. Inflator/safe second options are sold separately, allowing divers to choose the option that best meets their diving style.
The Atomic Aquatics BC2 will require CE certification before UK and Ireland sales can begin. It will be available in black with red accents in sizes: S, M, ML, L and XL.
MORE News